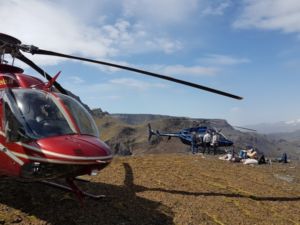 Icelandic Cosplay Championship details, and Grand Prize! / Upplýsingar um Icelandic Cosplay Championship og aðalverðlaunin!
íslenska neðar:
Today we wanted to clarify some questions we have received about the ICC, and announce the Grand Prize for the competition, in cooperation with our new partner Þyrluþjónustan https://www.helo.is/
The grand prize for the ICC will be a helicopter flight with a photographer for a Cosplay Photoshoot on top of Esja !!!!
(another nearby mountain top may be used instead if the weather does not permit landing on Esja)
In addition, anyone that owns a Midgard ticket, can get a 15% discount on flights from Þyrluþjónustan starting right now!!
The rules for the Icelandic Cosplay Championship are fairly open.
Bought costumes are permitted, as well as handmade costumes, and/or a combination thereof.
Costumes that have been used to compete in other cosplay contests are permitted.
There is no minimum age limit.
An application has to be submitted through the application form a minimum of 2 weeks before the event. (September 1st 2018)
We do however award extra points for handmade components.
You can find the full rules for the ICC, as well as the sign up form under program on our website or directly through the link here: http://www.midgardreykjavik.is/icc-rules/
Í dag viljum við svara nokkrum spurningum sem við höfum verið að fá varðandi ICC og tilkynna aðalverðlaunin í keppninni sem koma frá nýja samstarfsaðilanum okkar; Þyrluþjónustunni  https://www.helo.is/
Aðalverðlaun í ICC verður þyrluflug með ljósmyndara þar sem farið verður með vinningshafann í myndatöku uppá Esju!
(Ef veður leyfir ekki lendingu á Esjunni þá verður farið á þann topp sem nálægastur er)
Auk þessa, þá munu allir þeir sem eiga eða kaupa miða á Midgard, fá 15% afslátt af flugum hjá Þyrluþjónustunni frá og með deginum í dag!
Reglurnar fyrir Icelandic Cosplay Championship eru frekar frjálsar.
Keyptir búningar eru leyfðir ásamt heimagerðum eða samblanda af hvoru tveggja.
Búningar sem hafa verið notaðir í öðrum búningakeppnum eru leyfðir.
Það er ekkert aldurstakmark.
Umsókn þarf að berast gegnum umsóknarsíðuna okkar a.m.k. 2 vikum fyrir hátíðina. (1. September, 2018)
Auka stig verða hins vegar gefin fyrir handgerða hluti í búning.
Hægt er að finna allar reglurnar fyrir ICC og umsóknarsíðuna, undir "program" á heimasíðunni okkar eða með því að ýta á þennan hlekk hér: http://www.midgardreykjavik.is/icc-rules/