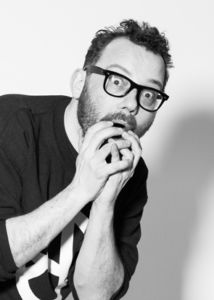 íslenska neðar:
It's update Monday!
Midgard our official partner Domino's and our sponsor Starborne/Solid Clouds, are excited to announce our next Special guest. Hugleikur Dagsson!
Hugleikur Dagsson is an Icelandic cartoonist/writer/comedian/director who was born in 1977 and has since then been breathing air and making jokes.
He has published about 30 books, written 3 plays, directed his own animated TV show and formed Iceland's only middle-aged boyband.
He also does standup comedy and the occasional art projects and various podcasts, among them one about Buffy the Vampire Slayer and one about eating poop.
http://www.midgardreykjavik.is/guests/
https://www.facebook.com/hooligandachshund/
—————————————-
Það er tilkynningar mánudagur!
Midgard, aðalsamstarfsaðila okkar Domino's og styrktaraðila okkar Starborne/Solid Clouds, gleður að kynna næsta gest hátíðarinnar; Hugleik Dagsson!
Hugleikur Dagsson er íslenskur myndasöguteiknari, rithöfundur, uppistandari og leikstjóri, fæddur árið 1977 og hefur síðan þá andað að sér lofti og sagt brandara.
Hann hefur gefið út um 30 bækur, skrifað 3 leikrit, leikstýrt sínum eigin teiknimyndaþáttum og myndaði eina miðaldra strákaband Íslands.
Hann hefur verið með uppistönd og ýmis listatengd verkefni en líka verið partur af svokölluðuðum "podcasts" þar sem t.d eitt þeirra fjallaði um Buffy the Vampire Slayer og annað um kúk.
http://www.midgardreykjavik.is/guests/
https://www.facebook.com/hooligandachshund/