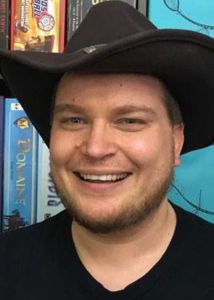 Today we would like to tell you about some changes to the line-up from the Dice Tower at Midgard.
As some of you may have already heard, Sam Healey is unfortunately not able to come to Midgard this year.  While we are extremely sad about this, and we hope to welcome him next year, we also have some good news.
Tom Vasel will be replacing Sam at this year's Midgard!
Having created The Dice Tower Podcast in 2005 with co-host Joe Steadman, Tom began to devote himself to the Dice Tower Network full time as active President in January of 2015
He lives in Homestead, FL. with his wife and their seven children.
The Dice Tower, is one of the largest tabletop-specific media outlets on YouTube, as well as a network of podcasts and videos.
We are looking forward to meeting Tom and Zee at Midgard 2018!
—————————————
Í dag viljum við segja ykkur frá smá breytingum á þeim sem koma frá Dice Tower til að vera á Midgard.
Eins og einhverjir hafa kannski heyrt þá mun Sam Healey því miður ekki komast á Midgard þetta árið. Þó við séum mjög leið yfir því og vonum að geta boðið hann velkominn á næsta ári, þá höfum við líka góðar fréttir.
Tom Vasel mun koma í stað Sam á Midgard í ár!
Tom Vasel stofnaði The Dice Tower Podcast árið 2005 ásamt meðstjórnanda sínum Joe Steadman en byrjaði að einbeita sér að fullu að The Dice Tower Network sem formaður í janúar 2015.
Hann býr í Homestead, Florida, með konu sinni og sjö börnum.
Dice Tower er ein stærsta borðspilarásin á YouTube ásamt því að vera með "podcasts" og ýmis konar önnur myndbönd.
Við hlökkum til að hitta Tom og Zee á Midgard 2018!